Benefits of Hosting Your Website on A2 Hosting
1. A2 Hosting Is FAST!
Here at DV News 24×7, we're all crazy about SPEED. The faster a web host can perform, the better they are in our books. You see, when it comes to online businesses, we understand that speed is everything and every millisecond matters.
Just take note of the time it takes for you to blink.
That's around 400 milliseconds.
A web-host needs to respond to a request in HALF that time to be considered effective (which is Google's recommended speed – 200 ms), and your data needs to be transferred to the customer's screen in roughly the same amount of time, because anything slower than that will cause your potential customer to potentially no longer be a customer because he/she got too bored and decided to visit another faster, more effective site.
Speaking of effective, A2 Hosting is VERY effective and fast.
We put our two test sites – one hosted in A2 Singapore, Swift, and another hosted in A2 Michigan, Turbo – through our intensive Server Speed Test, and we were very happy with the results that came back.
We tested for response times between the server's location pinged from 8 different positions around the globe. We then averaged out those numbers and ranked the web hosts based on how well they perform.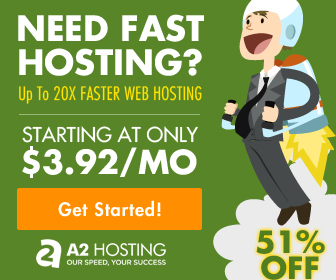 Google's recommended response time is 200 ms (lower is better). So anything below 180 ms is ranked A+; 181 ms – 210 ms is ranked A; 211 ms – 220 ms is ranked B+; 221 ms – 240 ms is ranked B and so on and so forth.
| US (W) | US (E) | London | Singapore |
| --- | --- | --- | --- |
| 177 ms | 216 ms | 183 ms | 8 ms |
| Sao Paulo | Bangalore | Sydney | Japan |
| --- | --- | --- | --- |
| 354 ms | 68 ms | 329 ms | 74 ms |
A2SGHosted.com (Datecenter: Singapore, Plan: Swift)Average Speed: 176.1 ms – See full result
| US (W) | US (E) | London | Singapore |
| --- | --- | --- | --- |
| 86 ms | 19 ms | 104 ms | 262 ms |
| Sao Paulo | Bangalore | Sydney | Japan |
| --- | --- | --- | --- |
| 152 ms | 306 ms | 248 ms | 179 ms |
A2TurboHosted.com (Datecenter: Michigan, Plan: Turbo)Average Speed: 169.5 ms – See full result
Both the Swift account and Turbo account server speed test results came back ranked A+, Swift with a worldwide average of 176 ms and Turbo coming in slightly faster at 169 ms.
Granted, these are not the fastest server response speeds we've seen, but any web hosting that gets ranked A+ is considered pretty damn good in our books. Combined with A2's list of luxurious features, we've got ourselves a web hosting gold medalist.
>>Get Started with A2 Hosting Today<<
2. Super Fast Turbo Servers
A2 Hosting's Turbo plan comes with an secret weapon – their Turbo servers. They claim that sites hosted on their Turbo servers are able to load 20 times faster than regular sites, because they limit the amount of users per server and apparently, the servers are more efficient at handling connections.
We ran our very own page load tests using WebPageTest.org to see how true this is (Swift test site pinged from Singapore, Turbo test site pinged from Chicago to be fair)
Swift: Site loads in 1.066 second – See full result
Turbo: Site loads in 0.981 second – See full result
It took the Swift site 1.066 second to completely load, while Turbo site completed the document in just 0.981 second. It's definitely an improvement and we suspect we'll see a bigger disparity between the page load speeds if the sites are heavier.
(Back To Top)
3. Fast Loading With SSD Storage
All of A2's shared hosting plans comes with SSD Storage which really contributes to their fast loading speeds. You may feel that this isn't that big a deal, but let me assure you, quite big this deal is.
A site that is slowed by just 1 second will lose customer retention, resulting in massive loss of sales.
SSDs are around 30% faster than regular hard disks, so whenever we see SSDs as our web hosting storage options, the corners of our mouths curl upwards in anticipation of super quick loading speeds.